A unique feature of Keyword Spy is the ability to research affiliate and affiliate network ads. As part of their Professional membership package they offer you the ability to get in-depth data about top affiliates, affiliate products, and affiliate networks.
The Affiliate piece of your Professional membership offers the following:
access to over 60 networks, 4,000 products, and 2 million ads
specific product and super-affiliate data from Clickbank, Commission Junction, Link Share, PayDotCom, Clix Galore, ShareASale, MAXBounty, TradeDoubler.
anti-cloaking technology that they claim helps find data on affiliates who cloak links
daily updates to networks, products, affiliates
search by affiliate ID, product ID, affiliate URL, and affiliate network name
Researching Networks and Products
Let's say you know the ID of a product you want to research and you want to research current ads for that product. You decided to go with the following product from Clickbank: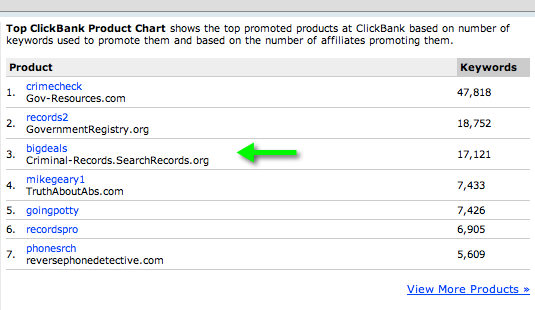 With this product ID, or any product ID from the 8 Affiliate Report networks (remember, only Clickbank, Commission Junction, Link Share, PayDotCom, Clix Galore, ShareASale, MAXBounty, and TradeDoubler have this feature, the 60+ other networks only show data based on their advertiser URLs), you can jump right into a Destination URL search and see all the ads Keyword Spy has found with the product ID in the landing page URL (usually it's just the affiliate link itself):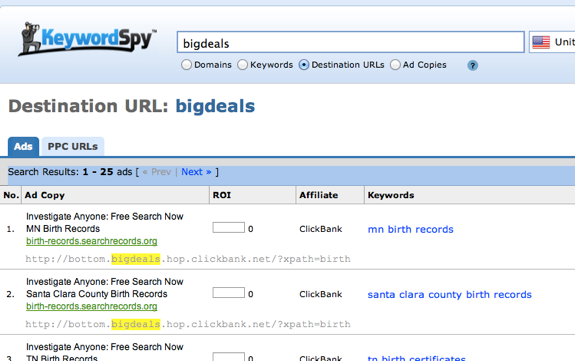 If you happen to researching another affiliate network that doesn't fall into the group of 8 where affiliate ID's and product ID's are available, you can still pop a URL in the destination URL search and sort to find specific affiliate ads. While the Affiliate Report section gives you access to the 8 networks, their products, and their affiliates it is the Affiliate Intelligence section which gives you access to the rest of the networks (and the 8 mentioned above as wel):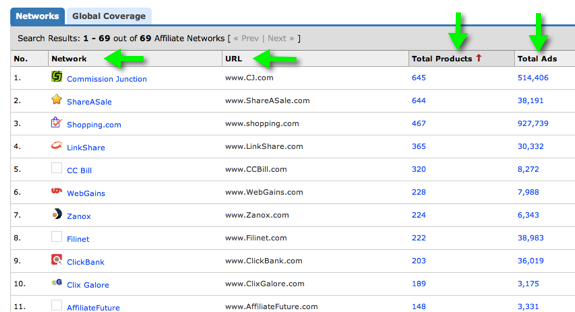 The Affiliate Intelligence section shows you:
the affiliate network
total amount of ads for that network
url of the network
total amount of products for the network
Keyword Spy has approximately 77 products and 1,341 ads for the Pepperjam Network. You can click on either the domain name, the total ads, or the total products and be brought into the section that breaks down the products the tool has information on: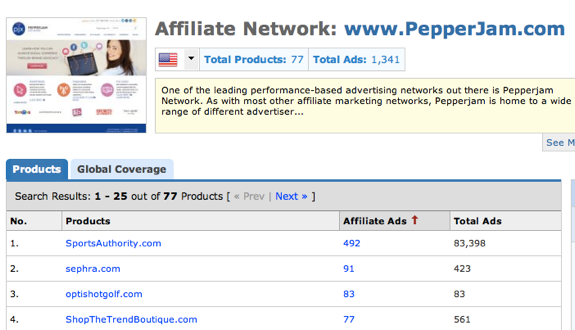 By far, the most ads here falls under the Sports Authority affiliate program. If you wanted to just research the Sports Authority domain you could just click on the URL to get back to the full research module on Keyword Spy (where you can also look at ads and filter for affiliate ads)or you could just click on the ads area to see current affiliate ads for this program:
>

You can do affiliate ad research on any domain you'd like, simply enter the URL then click on ads then sort by affiliate only. I like to use the Affiliate features on Keyword Spy to evaluate and see what products exist on certain networks.
Gathering the Affiliate Data
Once you are looking at the affiliate-only ads, you'll find that you get the same standard data points offered when you conduct traditional research methods inside of this tool. You'll get:
Ad Url
ROI (a custom metric determined internally by (Days Seen*Percentage Seen)/Number of Days Seen since Last Seen)
Name of Affiliate Network
Keyword being Bid On
Estimated Volume
Estimated CPC
Last Seen Position & Average Position
Days Seen/Days Checked
Last/First Seen Dates
Related Keywords
Ad Copy
What I generally like to do, for organic SEO, is to export the affiliate ads data (specifically the keywords)and check the search volume to determine what keywords I might want to add or consider for an organic SEO campaign.
I would check the rankings of those keywords with a robust rank checking tool like Advanced Web Ranking and have the tool grab the top 10 competing results as well. I'd use a domain that wasn't ranking so I could get the top ten sites ranking for each keyword and begin to evaluate the competitiveness from there.
Another thing I like to use this part of the Keyword Spy tool for is to come up with ideas for my own affiliate products (specifically information products) which I could create and market to some of the super-affiliates and/or affiliate networks that might be a good fit based on data given to me by this part of the Keyword Spy membership.
Researching by Affiliate ID
You can search by actual affiliate id's inside of the following networks on Keyword Spy:
Clickbank
Commission Junction
MaxBounty
Trade Doubler
LinkShare
PayDotCom
ClixGalore
ShareASale
All you have to do is select one of the networks and click in either of the two areas noted below to check out the affiliate data of specific affiliates on these networks: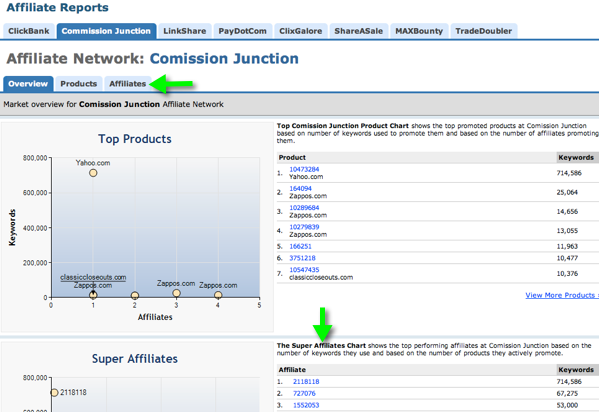 From here you can sort by total products and/or total ads. I sorted by total products and selected the first affiliate listed:

Once you click on a specific affiliate you can start digging into their data:

The affiliate detail screen will show you all the keywords and products (by product ID) the affiliate is advertising on in addition to the position of the paid ad and the competitors for the keyword being bid on. You can tab between keywords, products, and ad variations which are being used by the selected affiliate.
Another thing you can do, if the affiliate network you are researching doesn't have the affiliate ID feature, is to find affiliate ads by doing a keyword search and then using the affiliate link as a destination URL search. You can also do this if you happen to know a competitor's affiliate ID (might not be hard to find on sites where the affiliate doesn't cloak their links). You would follow these steps (assuming you didn't have the actual affiliate ID yet, if you do then just input that in the search box, select destination URL, and click search:
search for a keyword in the research section
click the ads tab for that keyword
select "show only affiliates" so that the only ads you see are actual affiliate ads
check the destination link by clicking on the information icon next to the ad
copy and paste the affiliate ID (not the whole URL) into the search box, select destination URL, and then you can see what other keywords and/or products the affiliate might be running under that specific ID
Affiliate Research with Keyword Spy
You have to have the Professional membership in order to use this tool. Keyword Spy offers 3 membership options, Research, Tracking, and Professional. Once you activate your Professional membership you'll get access to over 60 networks and millions of ads to research as well as competitive research data on thousands of products. Keyword Spy is the only major competitive research tool that offers in-depth Affiliate Research. Also, you will get instant access to the ads and products super-affiliates at 8 major affiliate networks are promoting along with statistics to determine what is and isn't profitable for them.
Give Keyword Spy's unique Affiliate Research tool a try today, you can sign up right here.