Ahrefs Review

Review Overview
Functionality
Utility
Ahrefs is a complete set of organic competitive research tools available to you on a pay-as-you-go monthly subscription program. Your paid subscription gets you access to all the tools offered by Ahrefs.
Site Explorer
Competitive Link Research Tools & Domain Comparisons
The Site Explorer tool allows you to enter a specific page, just the root domain (home page), or the entire domain for link research. Site Explorer gives you a variety of helpful information upfront, with an overview page that shows a summary of their core data points:
Total referring IP addresses, subnets, and referring domains
Link breakdown of domain extensions linking to the site (.com, .org, .net, .gov, .edu, and so on)
The type of backlinks pointing to the site (text, no-follows, images, redirects, sitewides, frame, and form links)
Link charts showing total, newly discovered, and lost links over a rolling 5 month period as well as a total referring domain count
In-depth anchor text breakdowns in helpful, easy to read bar charts.
In addition to a helpful overview page, you also get access to standard link research modules such as deeper dives into external links, anchor text breakdowns, and a raw export of links.
Inside of the domain comparison suite of tools you'll find:
Exportable backlink reports for a given domain or URL complete with social sharing data
Comparison of up to 5 domains with in-depth statistics on referring domain types and link types (text, image, redirect, and so on)
Batch analysis of multiple URLs or domains with similar data to the 5 domain comparison plus social metrics for the exact URL only (rather than social metrics on the entire domain or on a page by page basis)
Unique Features
Combining Multiple Tools & Owning the Data
The most unique and beneficial feature of Ahrefs is that it combines solid link data and a great web interface. The data is strong enough to the point where you can have one subscription cover multiple needs and cover them well.
Some other unique features of the tool are:
Freshness – Ahrefs updates every 30 minutes with a complete update completed every 2 weeks
Own Index – Ahrefs does not access another companies index and layer their own metrics on it, they provide you with a unique index not found in other tools
New and Lost Links – You are given data on new links discovered and links previously discovered but no longer in existence. You get monthly snapshots of this data in bar graph format covering a 5 month rolling period.
You can actually get an exportable list of your new and lost links to help you immediately spot and attempt to fix potential lost link issues
Depth of Anchor Text Information
Another feature worth highlighting is the anchor text break down feature. You can easily break down an anchor text profile by phrases as well as terms. This makes it easy for you to spot over-optimization issues with external anchor text and a very granular level. You can break down anchor text in the following ways:
Actual phrases
1 word terms
2 word terms
3 word terms
4 word terms
Terms can be helpful in breaking down the overuse of a single or multiple word phrase or term. An example would be how many times does the word quote show up on the anchor text profile of an insurance company website. If you are struggling to rank for terms with the word "quote" in it, you might find that on a term level you have overused quote quite a bit. Some examples would be:
auto insurance quote
home insurance quote
insurance quote
While you may think you are diverisfying your anchor text (you are, to a degree) you are actually putting your site at risk on terms with the term "quote" in it. Search engines do not simply penalize phrases, they also go after over-optimized words and terms.
Social Metrics
In addition to the unique features mentioned above, Ahrefs has some unique metrics that are not found in most of their competitor's products:
Breakdown of TLD's (domain name extensions) for external links
Sitewide and not sitewide links
Twitter, Facebook, and G+ metrics for all URLs (some competitors just have the top 20 or so pages, some have none of this data)
Website Audit Tool
Ahrefs also includes a Site Issue section that covers standard website issues like HTTP errors, redirects found (301, 302, and so on), missing title tags and meta descriptions, as well as length issues with URL names, title tags, and meta descriptions. They also have features to highlight both broken inbound links into your site & broken outbound links from your site. Fixing broken links into your site is one of the quickest & easiest ways to build low-risk, high-quality links. Fixing broken outbound links lets search engines know the site is well maintained.
While their Site Issue module is not a replacement for a full on site audit it is a usable tool that provides a quick overview of potential site issues that you can spot and address quickly. I do not see this feature being as strong and in-depth as the keyword and link modules so I wouldn't classify it as a 3-in-1 tool but it is certainly a unique feature to have inside of a competitive research tool.
Usability
Of the three major link tools on the market (Majestic SEO, Open Site Explorer, and Ahrefs) Open Site Explorer generally is lauded as the tool with best user interface and the strongest in terms of usability while Majestic SEO is generally mentioned as having the deepest data.
Ahrefs has come a long way in the usability department and it is on par with the user experience that Open Site Explorer provides and is a notch or three higher on the data front and gaining on Majestic SEO quickly. There are filters to look at links from a particular sites, internal links, links which use nofollow, links which do not use nofollow, recently gained links, recently lost links, etc. Their interface is lightning quick and is almost like having a sortable feature-rich Excel spreadsheet on their website.
It is very easy to move around in Ahrefs's interface, easy to export, and easy to filter. They provide many helpful charts that you can easily screen grab and save for later use.
Screenshots
Review Video
Coming soon!
Data
Source
Ahrefs uses its own bot to crawl the web and provide link data and metrics. They also maintain their own index for keyword, social, and link data purposes.
They also obtain data from Google with respect to search volume, ranking, CPC, and Google+ information. Data is also pulled externally for Facebook and Twitter data.
Size
They claim that their index has information on a trillion website connections and their bot crawls billions of pages per day.
Freshness
Information is updated every 30 minutes and a complete index update is achieved every 2 weeks.
Usage Strategies
Tips & Ideas
The new and lost link reports are great for enhancing an ongoing link campaign. If you've recently earned a link from a solid source you could reach out to them on a social network or via email and thank them for the promotion. This can further engage potentially interested site visitors outside of pure search. The lost link report is a good tool for basically the same thing except you'd be reaching out to find out why you lost the link. Was it content related? Do you have a 404 error you are unaware of?
The depth of link data really gives you a unique opportunity to dive into potential issues with a site or to help you figure out what is working in a particular market. The ability to break down links by domain extension, IP address, and subnets certainly enhance your ability to quickly and efficiently breakdown potential link issues (or opportunities) without the need for a lot of downloading and spreadsheet work.
If you are looking to develop content or are looking for keywords which appeal to the social market, you can download the social metrics of each URL on a given site. Having the most shared content on a domain available to you is a solid tool to have in your content development and promotion arsenal. This tool can help sort through various competitors to help find the most prolific one for you to begin your research on. If you are entering a market it is helpful to know who is on top for the more profitable terms so you can begin to establish a baseline strategy on the back of what the more successful sites are doing.
Notes
Some final thoughts on Ahrefs:
While Ahrefs is a newer tool they are adding helpful features at a quick rate. The simple fact that they are new (and were for sale many months ago) should not discourage you from using their tools. They have solid data and have been adding quality features at a fairly quick rate
They do not provide a deep historical index like MajesticSEO does but they are very much on top of providing fresh and up to date data. The inclusion of lost link reports are helpful here as well
Sign Up
Price
You have 5 account options. These give you access to all the features and the only differences are in requests per day, results per request, amount of standard reports, export limits, and API units.
Free / Newbie – 500 results per request, 15 requests per day, 3 standard reports.
Lite – $79 monthly / $790 yearly – 2,000 requests per day, 5,000 results per request, 100 standard reports, 5,000,000 raw export results (rows of data), 4,000 API units.
Standard – $179 / $1,790 – 5,000 requests per day, 25,000 results per request, 200 standard reports, 30,000,000 raw export results (rows of data), 9,000 API units. All tiers at or above this price level contain access to the recently added advanced features: broken backlinks, content analysis, top content & top referring content.
Plus – $499 / $4,990 – 10,000 requests per day, 100,000 results per request, 500 standard reports, 125,000,000 raw export results (rows of data), 25,000 API units.
Premium – $1,299 per month, allows you to access analyzing up to a billion backlinks per month
The pricing listed above is monthly/annual. You save 2 months worth of fees buy going with an annual plan. The Raw Export refers to the pure raw export of the following items:
Backlinks/Referring Pages
Anchor Information
Crawled Pages
Referring Domains
You can download all of those against your listed monthly quota while your standard exports in the individual report sections inside Site Explorer, Keyword Analysis, and Domain Competition are based on your total requests and results per request.
So as an example, you could do a domain search on Travelers.com and click on the External links tab. You'll see 43K+ results (this includes multiple pages on a domain). If you click to show just 1 link per domain you get down to about 10k. Now, you can export from the interface and if you had the Professional account you could get up to 5,000 results in the sheet.
If you went into raw export, you could export all 10k+ referring domains against your monthly raw export quota (in case you wanted to do some custom sorting or manipulation with that extra data in excel or what have you)
Free Trial
There is no free trial available but you can sign up for a free account here. This account is free on an ongoing basis but is limited in scope as noted above.
For their paid accounts they offer a 7-day money back guarantee.
Discounts & Coupons
Currently there is a promotional code from SeoBook that gives you 50% off the first month.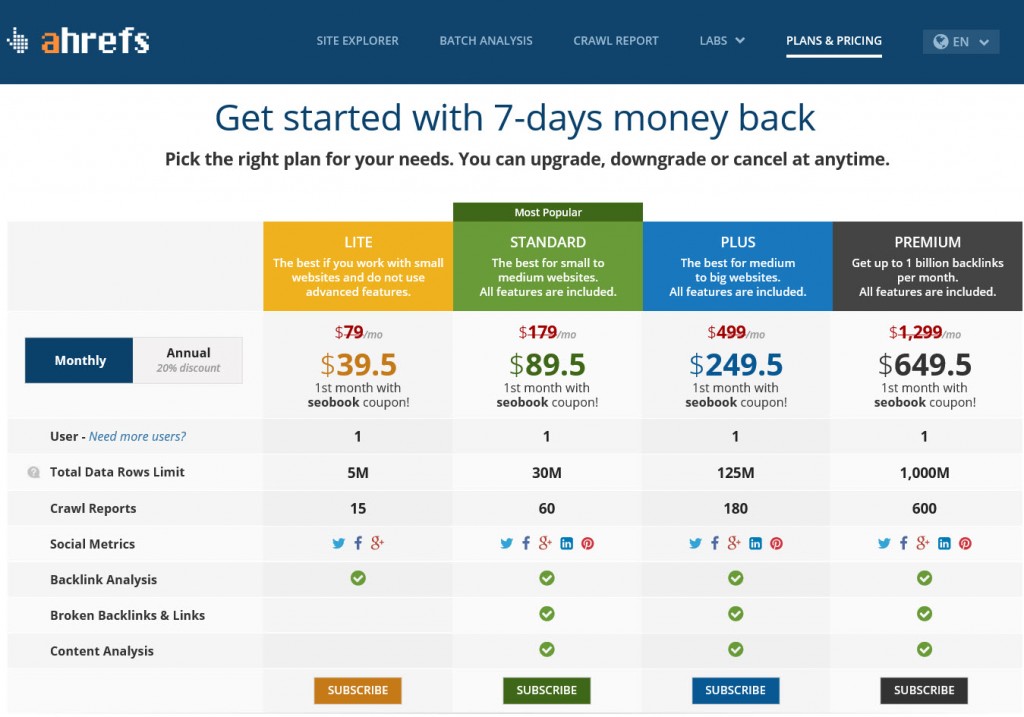 Click here to activate this promo.


Ahrefs Review

,