Anchor Text Analysis With Ahrefs
Nov
14
One of the many reasons why Ahrefs is my tool of choice is its ability to break down an anchor text profile quickly and efficiently.
In this post, I'll show you how quick it is to spot potential issues and how deep you can actually dig with this feature of an Ahrefs membership.
Anchor Text Data
Ahrefs offers lots of data, you can see our full review here, on keywords, links, and general purposes competitive research metrics. Specifically, inside of their Anchors tab you'll get access to the following
Anchor text of the link
Total links with a given anchor
Unique domains relative to the total link count of a given anchor
The % of the full link profile made up by a given anchor
The domains where the links reside with an option to expand and see the pages on the domain with the actual link
The ability to break down links by do-follow vs no-follow and sitewide vs not sitewide
These features are shown in the following screenshot: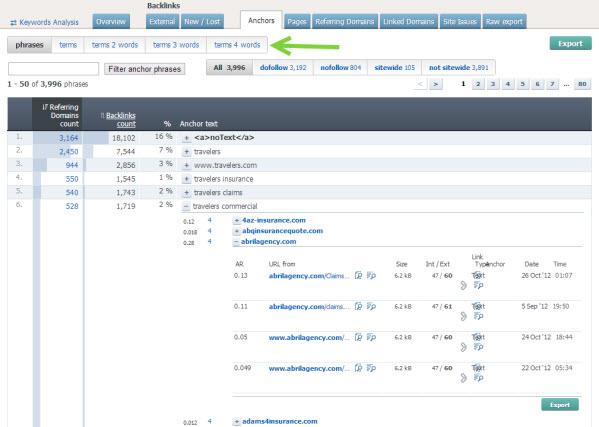 By far, my favorite piece of this module is what is next to the green arrow in the above screenshot. This represents not just the anchor phrases, but also specific groups of terms that make up your overall anchor text profile. This is helpful because:
Sometimes Google will group an over-optimization filter on keywords that include not just the actual phrase but bits of the term as well
You can quickly spot areas which appear to be over-optimized for a grouping rather than just a specific term
You can group this data with the other filters I mentioned (dofollow vs nofollow, sitewide vs not sitewide, or all links) to quickly see what is really going on with your core keyword groups
Ahrefs will show the same information when you break your profile down into terms (total links, referring unique domains, and percentage of links that contain a 1, 2, 3 or 4 word term)
Digging into Phrases and Terms
When you look at phrases you are looking at the actual full anchor that resides on a given page. Whereas with terms you are seeing anchors that contain that particular 1, 2, 3, or 4 word term. If someone links to you with "auto insurance quote" as the full anchor, with no other words or characters in the anchor, then it will only show on the phrase report and not the 3 word term report.
I like how they do that because if they put it in both the phrase and 3 word report it would make the data less useful as it would not portray an accurate reflection of the question "what percentage of my links contain this keyword specifically and only versus what percentage of my links contain these pieces in a given anchor".
The screenshot below shows what a traditional, natural link profile tends to look like: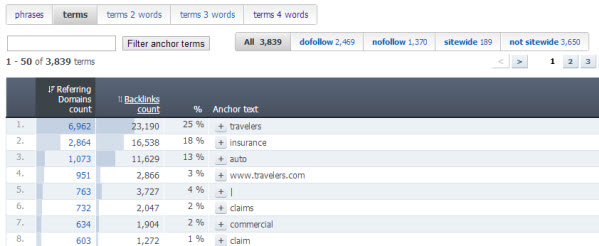 You can sort by any of the columns but here you an see that from a unique domain referral standpoint, the top 3 terms are essentially the company's name and their most well-known product link with respect to singular terms that show up most often.
If we look at the 2 term report we begin to see which terms tend to define the product and brand:

What this report also shows is that even at a 2 term level many sites link to the domain with a brand component as well. Most commercial keywords are of the 2 and 3 word variety. The single term report generally is a good test for the branded nature of the links.
We saw in the single term report that the top 2 terms (in terms of unique domain count) were essentially part of the brand name.
This 2 term report is continuing to reinforce the branded nature of the site's anchor text profile.
Now we can take a look at the 3 term report:

Here is where we can really start to see the most linked to commercial phrase(s). I do with Ahrefs would drop pipes and other characters from these reports and just focus on actual words but since Google generally looks at these characters as characters I suppose it's somewhat ok to leave them in.
Given that the top-level reports have established Travelers and Insurance as 2 of the core terms (and thus branded) it's likely that the words attached to these terms are branded terms as well. This helps in establishing a natural link profile.
If you think of these reports as a cascading group of reports you can see how branding can help significantly. In other words consider this:
Phrase report sets the table for the whole link profile, what words are establishing the brand in the profile? Here it's Travelers and Insurance. People refer to the site as Travelers Insurance
The term report reinforces the most important singular terms, these generally should line up with the phrase report (again, Travelers and Insurance)
The 2, 3, and 4 word reports likely contain commercial keywords and the hope is that you've been able to get some piece of the commercial references included into what words Google views as your branded terms
Travelers has been able to establish the word Insurance as a part of their brand so when we see stuff like auto insurance quotes and such it is not all that unnatural to search engines because of the branded nature of this anchor text profile.
Next up is the 4 term report:

We continue to see the emphasis on car and auto insurance related keywords with word separating pipes that likely included branded terms before and/or after.
I would say that Travelers is well positioned for the auto/car insurance keyword group but they need to target the core terms better from an anchor text standpoint. From a marketing standpoint and a site standpoint Travelers tends to target a broader market of products then the other big insurers like Geico, Allstate, Progressive, and so on do.
Wrap Up
One module in a tool doesn't tell a complete story nor does one tool. It is typically recommended that you use multiple tools to cross-compare different data points and metrics to come to proper conclusions or at least well-informed conclusions.
There isn't another tool out there right now that combines this terrific feature with the speed and depth of Ahrefs. The specific module alone is worth the cost of Ahrefs in my opinion, it's important to have a deep understanding of an anchor text profile and Ahrefs is the head of the class at the moment.
You can limited data with their free account or you can sign up to test it out in full, they do offer a 7 day money back guarantee.
If you do decide to sign up please take advantage of their current 50% off the first month coupon (20% off annual as well).
Anchor Text Analysis With Ahrefs

,